PappaRich Chatswood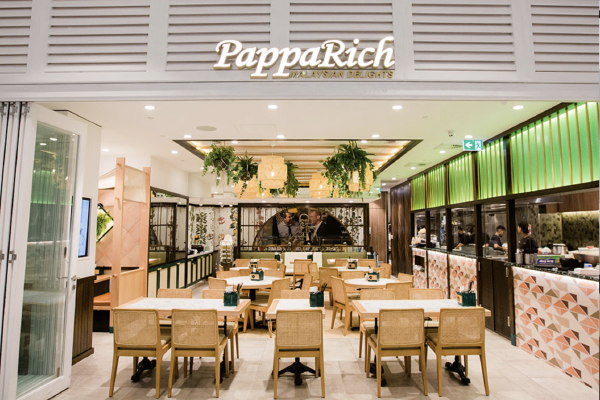 Address:
Shop 357, Westfield Chatswood Shopping Centre, 1 Anderson Street Chatswood New South Wales 2067 Australia
Phone:
(02) 9413 9740
Email:
pprchw@gmail.com
We're thrilled to announce that PappaRich Chatswood is BACK! Now located at Westfield Chatswood Shopping Centre, you can head over to PappaRich Chatswood for Malaysian hawker food that is flavourful, hearty and delicious. While Chatswood has grown to become a thriving commercial hub with an abundance of reputable establishments, there is no question that PappaRich Chatswood is the Malaysian restaurant to go to for unbelievably delicious and authentic Malaysian cuisine.
As the central gateway to the culinary cuisine of Malaysia, you can expect a wide array of delectable dishes at the popular Malaysian restaurant, such as quintessential Malaysian dishes like Nasi Lemak or crispy and fluffy Roti Canai. If you are new to the PappaRich experience, you can opt for Pappa's Chicken Rice, one of the classics of Malaysian food that comes with tender boiled chicken, fragrant chicken rice, chicken soup, and a combination of chilli, ginger and dark soy sauce for dipping. If you prefer something soupy, check out our slurp-worthy Pan Mee Soup, Curry Laksa or Ipoh Kway Teow Soup! Whether you're looking to try Malaysian food in Chatswood for the first time, or are already familiar with taste and spices, PappaRich Chatswood welcomes you.
What's even more special is that this is our second ever store in Australia to adopt Pappa's self-ordering system! Each table is equipped with an iPad so all your favourite Malaysian food options can be ordered conveniently. With plenty of parking available and a seating capacity of 80 people at our Malaysian restaurant, you are welcome to gather your best mates and family for a roaring good time. PappaRich Chatswood is just opposite Nando's, adjacent to Hurricane's Grill and is the place to go to for Malaysian hawker food at its best.
The team at PappaRich Chatswood is dedicated to providing you a satisfying and enjoyable dining experience, serving up Malaysian food jam-packed with flavours and made with high-quality ingredients. As the top Malaysian restaurant in Chatswood, PappaRich is excited to be bringing you tasty and exceptional dishes every night of the week. If you're not in the mood to leave the comfort of your couch, order your favourite PappaRich dishes on Doordash!
Location
Opposite Nando's
Adjacent to Hurricane's Grill
Trading Hours
Monday: 11:00am - 9:00pm
Tuesday: 11:00am - 9:00pm
Wednesday: 11:00am - 9:00pm
Thursday: 11:00am - 9:00pm
Friday: 11:00am - 9:00pm
Saturday: 11:00am - 9:00pm
Sunday: 11:00am - 9:00pm
Features